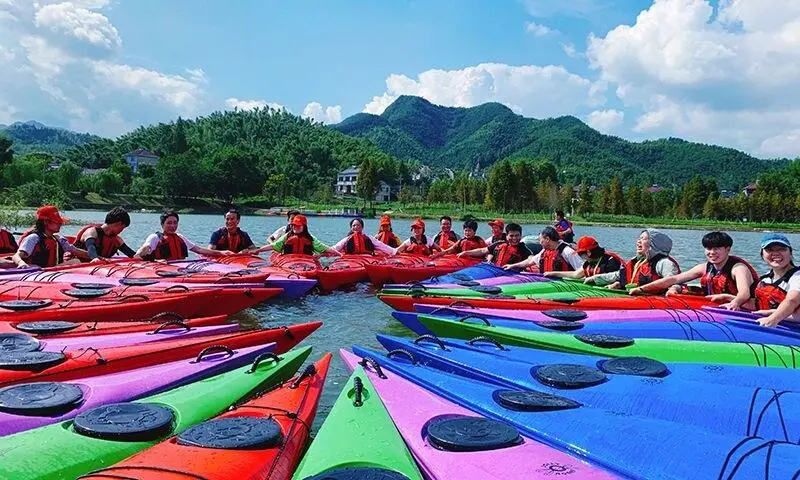 SHARNDY all staff had a memorable trip at Anji County, Huzhou City, Zhejiang Province from 6th to 7th September. Anji County is a country in the prefecture-level city of Huzhou in northwestern Zhejiang province. Anji county is well known for its bamboo. It has been designated a pilot country for ecological and green building construction.
At the morning of 6th September, we go through the bamboo forest and arrived at local special tent on the lawn. In here , you can see wooden water bar, bamboo sea, bang bang ball and widen lake.
The first activity is lake kayak. After the landing paddling rehearsal, we start the game on the lake.
Looser will getting wet. This is depend on your counterbalance.
Do you want to feel the traditional bamboo handwork? Everyone likes a serious and lovely student under the guidance of patient gerontic teachers. One thing need to note, men are seems to more talent than female.
When the night falls, forest banquet begins. We cheers, we dance, we sing and we laugh. This is a wakeful night.
On the second day, we get up earlier to finish 5KM running with SHARNDY president Leeou. He is a totally a sports fan.
After brief rest, every team(drawing straws) prepare put into the picnic in he bamboo sea. Before cooking, we should win the kitchen ware in the funny game and purchase ingredient within team funding.  Then we build the stoveand fire up. Two hours later, all kinds of delicious food show on the table. Let's enjoy the grand lunch.
In this warm and enjoyable trip, we could learn more about every SHARNDY staff. They are talent and indispensable. Do you wanna come with us?