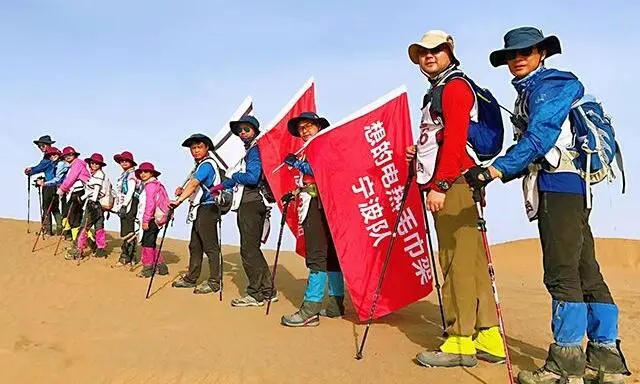 One year ago, I was thinking to have a hiking in gobi desert with my team, then we founded a running team and ask my team person start to do some exercise; We start the hiking must through crowdfunding.
How it's amazing, we start the hiking! 4days and 3 nights, in total 108KM!
The first day, we finished 27KM, we walked dirt road, saline land, marshland, black gobi, and the strong wind followed us all the day, weather was comfortable, funny and laugh accompany us.
The second day, the weather became very hot, team member feels very hard to continue, everybody's feet blister and backache leg pain after 27KM hiking. Today is the hardest day for us, female member even crying during walking, some seconds I even thought they're so stupid to do the decision about hiking, but have no choice to go on; this day we took 10 hours to completed 30KM.
The third day, the temperature reach to 40 degree, even my shoes can be melting by sands; I was thinking to give up this hiking at the night, but when we saw the sunrise, every member even start running, we completed 30KM with 7 hours, how awesome, it's a breakthrough for our team.
The last day, it's 21KM, but the road condition is biggest challenge, every one are came to physical limit, some people even suffered sunstroke; we can not give up and down at the last mile, this is our willpower. Thanks for this willpower, we arrived destination.
It's stilll like a dream, we can not believe we can do that, we can hiking 108KM on desert even when we stand on the podium. How awesome and wonderful experience, all grievance, sadness, exhaustion and insist becoming a tear when we finish 108KM. Since then, our team member have another name which called Gobi-friends.